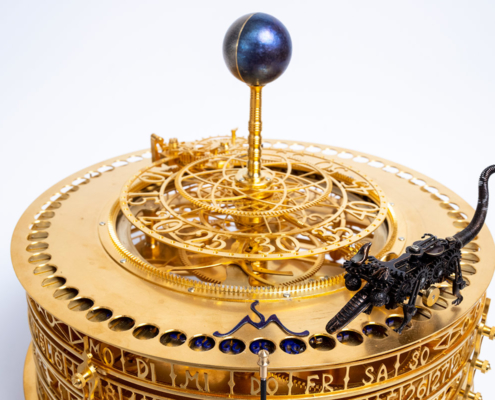 Time is a gift to enjoy every minute !
All cultures and religions in this world deal with the transience of life. It is present as "Vanitas" in the Christian tradition, as "Anicca" in Buddhism or as "Mono no aware" in Japanese aesthetics.
The older and wiser we become, the more we appreciate every minute of time that is given to us.
The "Minute muncher" is an artistic-kinetic realization of this philosophical topic.
Above a horizontal clock dial, a fantasy animal circles once every hour on the minute hand. Starting at 60, it "eats away" one minute after the other.
The animal reminds us to enjoy our dwindling time and to use it wisely.
The dial construction, invented especially for this clock, consists of two discs and a mechanism that successively displays the digits. It contains 60 circular openings in which the digits become visible one by one. But when the animal reaches a digit and opens its mouth to swallow it, it mysteriously disappears in a flash!
The animal is an ingenious and complicated automaton. It moves its legs forward continuously. Its eye and ear movements are modeled on a chameleon. Its mouth opens and closes to eat the minutes.
This kinetic time display, a unique piece like all of Miki Eleta's pieces, is a work of art that inspires the owner or the visitor to linger, reflect and admire.
Of course, the clock also shows hours and minutes. A moon phase is positioned in the centre of the dial.
At the side are four manually rotatable, skeletonized discs for vertical reading. They stand for the day of the week, the date, the month and the hour. A date with a time can be set on them to remind you of an important moment.
As we have come to expect from Miki Eleta, he made every single piece of this work of art – around 600 individual parts, including some that never existed in this form before – by hand.
(A typical date-display chronograph wristwatch has up to 250 parts…)
Technical data
Round table clock
Total height: 20 cm
Diameter: 24 cm
Weight: 4 kg
Spring winding
Chronometer escapement
Oscillation period: 1.7 sec.
Power reserve: 5 days
Indications: Minute, hour, moon phase in the centre of the dial
Materials: gold-plated brass, steel, lapis lazuli, mother-of-pearl, titanium moon
Construction time: eight months
All parts of the clock are handmade.