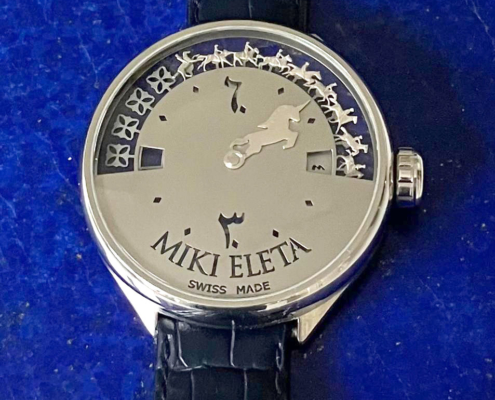 Horse Wrist Watch, Miki Eleta 2023
Encountering the rich Arab culture on a study trip to the United Arab Emirates inspired Miki Eleta to create the "Horse Race Clock in 2022" and then this unique watch in 2023.
Limited to 25 pieces, the watch thematizes the Arabian passion for horses and Islamic architecture on the 24-hour disc.
The afternoon indications are displayed with ornaments that refer to the symbols often used on mosques and palaces.
The cyclical display of the time is a patented invention of Miki Eleta, in which the current hour can be read in Arabic numerals at position 9 (ante meridiem or "am") or position 3 (post meridium or "pm").
The time can also be read by the number of horses (am) or ornaments (pm). The minute is indicated by a unicorn hand.
The three-dimensional horses are handmade by Sergey Tietierin, Microart, a Ukrainian artist who became world-famous for his depiction of a camel caravan in the eye of a needle.
Some technical elements
Watch case: diameter 47mm
Height: 14mm
Strap lugs: 20mm
Mechanical movement: ETA UNITAS Ca. 6498-1
Power reserve: 46 hours
Warranty: 2 years
Limited edition: 25 pieces ("1 of 25 pieces" engraving)
Swiss made